"It's Gonna Haunt Him" – Chase Briscoe Blamed for Denying Denny Hamlin "The Crown Jewel" NASCAR Race

You'd think that Denny Hamlin winning the Coca-Cola 600 means he now has the crown jewel in NASCAR. And that might be true depending on who you ask.
But there's still a race that the Joe Gibbs Racing driver wants to win, a mountain he still wants to conquer (except for a championship), something which spotter Brett Griffin recently revealed along with shedding some light on Hamlin's character as a competitor.
"If you look at the Brickyard, and you say Brickyard is still a crown jewel race, who was gonna win it last year? Chase Briscoe punted him over the last lap," Griffin said. "Chase said, 'See ya later.'"
ADVERTISEMENT
Article continues below this ad
"Denny Hamlin, the Brickyard oval was on his list as a must-win race in his career," Griffin said in a recent episode of the Door Bumper Clear podcast. "I've talked to him about it. And for him not to have won it before they shifted it to the road course, I think it's gonna haunt him personally."
"He's one of those bucket list guys."
Will Denny Hamlin enter the NASCAR Hall of Fame without a championship?
NASCAR spotters TJ Majors and Brett Griffin described why Denny Hamlin, despite not winning a Cup Series championship, deserves a spot in the Hall of Fame.
"Denny's resume, obviously doesn't lack wins in all series," Majors said. "I don't remember if he's run any mile-and-a-half, I don't remember Denny doing big track stuff. Just short-track stuff and trucks. But his resume definitely doesn't lack the wins."
"It's only lacking one thing, we all know what that is," Majors added to which Griffin said, "A championship." 
ADVERTISEMENT
Article continues below this ad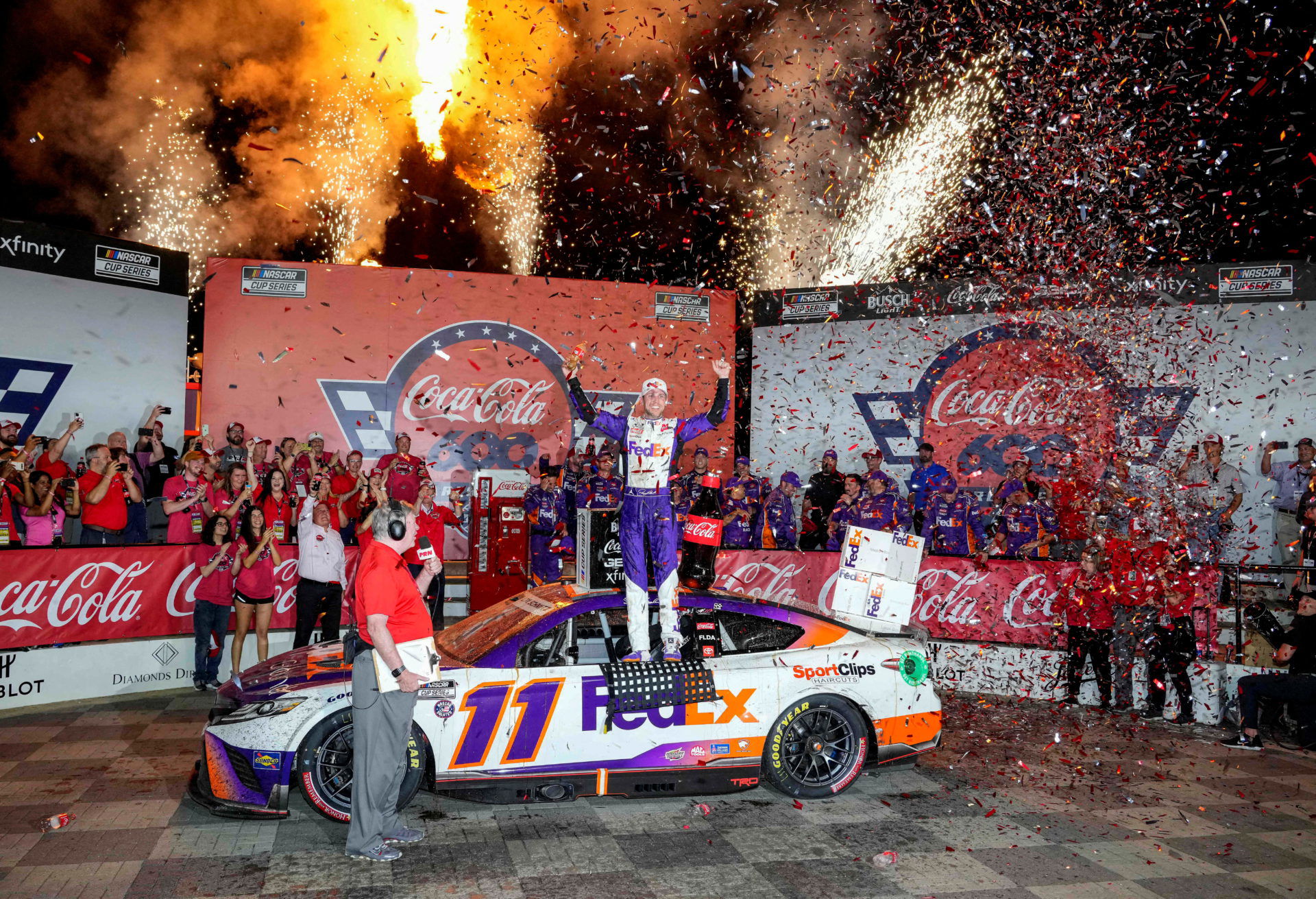 May 29, 2022; Concord, North Carolina, USA; NASCAR Cup Series driver Denny Hamlin (11) wins the Coca-Cola 600 at Charlotte Motor Speedway. Mandatory Credit: Jim Dedmon-USA TODAY Sports TPX IMAGES OF THE DAY
Majors added that winning a championship doesn't "really define" the eligibility of a driver to be inducted into the Hall of Fame. And to prove this, the spotter based his argument on the basis of one particular aspect of Hamlin's career, his stats.
ADVERTISEMENT
Article continues below this ad
"If you look at Denny's stats and take the name off of it, to me, you'd think he won a championship," he added.
WATCH THIS STORY: War Breaks Out on Social Media After NASCAR Fan Makes Ugly Jimmie Johnson Suggestion