SoFi Personal Loan $600 Bonus (Targeted)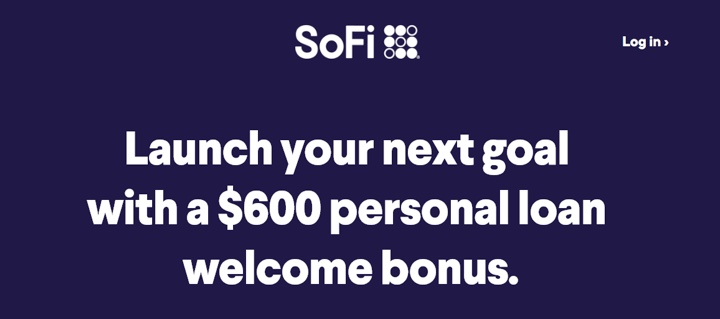 SoFi is still in aggressive growth mode. If you have any SoFi accounts, look in your email inbox for something titled "[First Name], get a $600 bonus and seize your financial freedom" or "Special invite: [First Name], we're excited to present a $600 bonus." Mine was in my spam folder, but it contains a pretty good bonus if you are able to take out a fee-free loan and pay it back immediately (i.e. not spend it). Both my wife and I were targeted, and both offers require you to apply by end of day July 5th, so I wanted to send this out quickly.
Basically, the idea is that you take them up on this personal loan offer for the minimum amount of $5,000. SoFi charges no fees, so no application fee, no origination fee, no early payoff fee. You will get a hard pull on your credit report, but for me the $600 is worth it. So you get the $5,000, pay a day or two's worth of interest (a few dollars), and then pay off the loan completely. Take the $600 bonus into your SoFi Checking and Savings account (which earns up to 1.50% APY and has its own $325 bonus) and walk away with
¹ SoFi Lending $600 into a SoFi Checking and Savings account on a SoFi personal loan offer: Terms and conditions apply. Offer is subject to lender approval. The offer is only open to new SoFi Personal Loan borrowers and may not be combined with other offers aside from the autopay discount, direct deposit discount, and direct pay discount. To receive the offer, you must: (1) register and apply through the promotion link for a SoFi Personal Loan by 11:59pm EST 7/5/2022; (2) complete and fund a loan application with SoFi before 11:59pm EST 7/8/2022; (3) have or open a SoFi Checking and Savings account within 60 days after starting a personal loan application; and (4) meet SoFi's underwriting criteria. Once conditions are met, your $600 welcome bonus will be deposited into your SoFi Checking and Savings account within approximately 30 calendar days after earning the bonus. If you do not qualify for the SoFi Checking and Savings Account, SoFi will offer payment via ACH transfer pending completion of a W9 form. Bonuses that are not redeemed within 60 calendar days of the date they were made available to the recipient may be subject to forfeit. Bonus amounts of $600 or greater in a single calendar year may be reported to the Internal Revenue Service (IRS) as miscellaneous income to the recipient on Form 1099-MISC in the year received as required by applicable law. Recipient is responsible for any applicable federal, state or local taxes associated with receiving the bonus offer; consult your tax advisor to determine applicable tax consequences. SoFi reserves the right to change or terminate the offer at any time with or without notice.
Here is the rate I was offered during the pre-approval process. You can see the rate before proceeding with the application (before the hard credit check).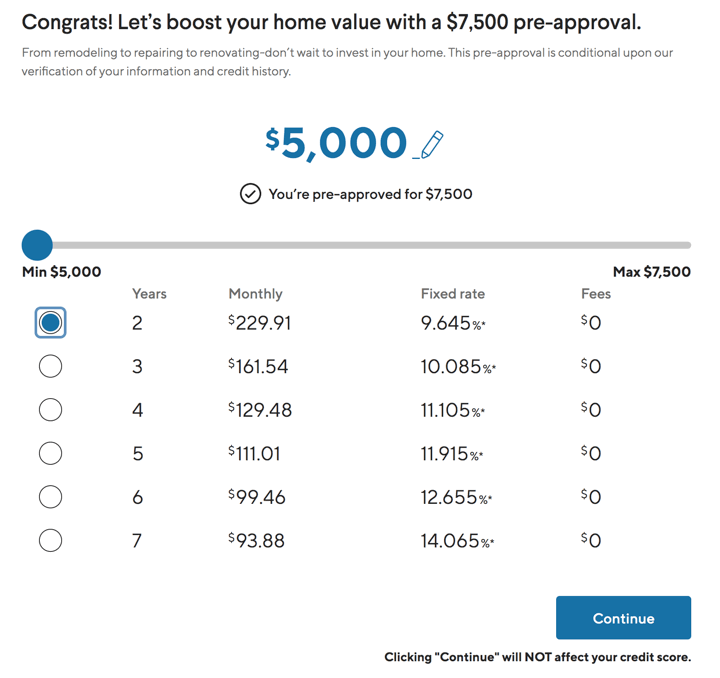 Not targeted? $300 referral offer details. If you were not targeted for this email promo, you can get a $300 personal loan bonus via referral. For some reason, this offer includes some additional fine print:
Offer not available to residents of Vermont or Ohio. You must keep your loan active and in good standing for at least 90 days to receive the $300 bonus.

The easiest way to manage this is to pay down as much of your loan as possible (i.e. make a one-time $4,999 payment) and leave a balance of $1 to keep the loan active and good standing. Don't pay it off until 90 days have passed. This only costs you a few cents in extra interest.

Some people may choose to do this even for the targeted offer above and keep the loan open with a tiny balance until the bonus posts, just to be extra careful, even though there is nothing required in that fine print. Your call.


"The editorial content here is not provided by any of the companies mentioned, and has not been reviewed, approved or otherwise endorsed by any of these entities. Opinions expressed here are the author's alone. This email may contain links through which we are compensated when you click on or are approved for offers."



SoFi Personal Loan $600 Bonus (Targeted) from My Money Blog.
---
Copyright © 2004-2021 MyMoneyBlog.com. All Rights Reserved. Do not re-syndicate without permission.